ODE TO MURDER: A Larkin Day Mystery, #1
Larkin Day just moved back home—at 35 years old. With no money, no job prospects, and nowhere to live except her mother's guest bedroom, Larkin is pretty sure this is the worst thing that's ever happened to her.
Then her mother signs her up for community choir.
Then the accompanist asks her out—and stands her up.
Then he turns up dead.
Larkin didn't kill him, of course—but she quickly learns that there are plenty of other women who might have wanted him gone. Although Larkin never planned on becoming an amateur detective, she finds herself getting more and more involved with the death of Harrison Tucker—while making new friends, setting her mother up with a local police officer, tackling six figures of student loan debt, discovering the benefits of protected bike lanes, and learning what ingredients are (and aren't) in a scotcheroo.
A fast-paced, cleverly-plotted mystery that includes both Beethoven and baking, Ode to Murder is for cozy fans who have been hoping to find a Millennial-aged amateur detective who practices old-fashioned sleuthing in a world of smartphones and social media.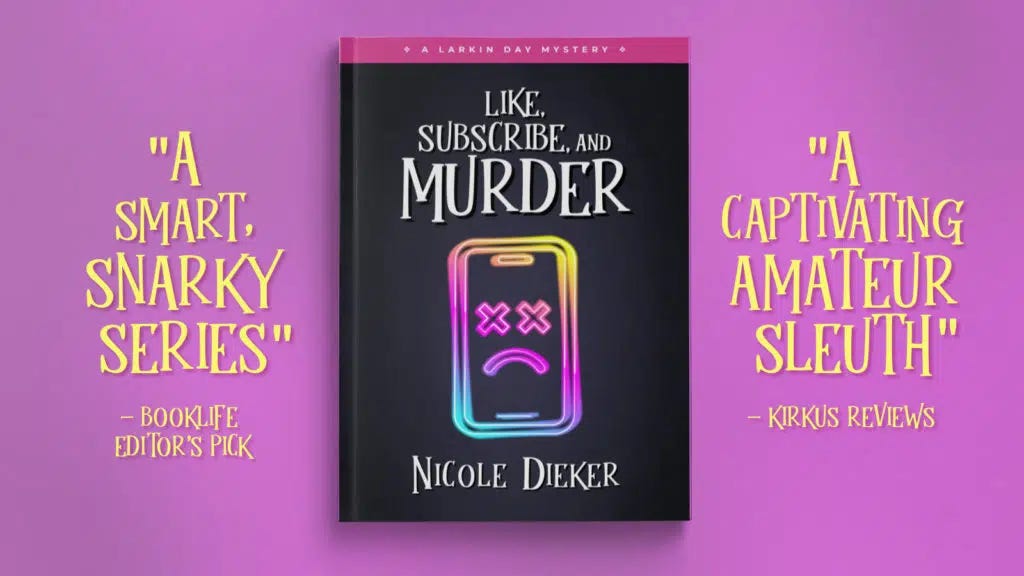 LIKE, SUBSCRIBE, AND MURDER: A Larkin Day Mystery, #2
Larkin Day is doing great. She's gainfully employed, she has a kinda-sorta boyfriend, and she let her best friend Anni convince her to sign up for group exercise classes at the Pratincola Fitness Complex. New year, new Larkin, right?
She's also looking for a new case—even though Anni keeps telling Larkin that she has to figure out how to solve something else besides murder. Otherwise, a lot of people in Pratincola, Iowa will have to die before Larkin can turn her detective business into a full-time job.
So Larkin decides to solve everything. Why are a group of college students trying to get Larkin's mother to resign as Dean? Who is the mysterious stranger who keeps hanging around Anni's apartment building? When is the right time to ask someone whether he's really your boyfriend?
Then Bonnie Cooper, a fitness instructor and social-media influencer who just landed her first major sponsorship, asks Larkin for help.
"I've been murdered," Bonnie says—even though she is very much alive.
SHAKESPEARE IN THE PARK WITH MURDER: A Larkin Day Mystery, #3
It's a summer of doublets and couplets, Capulets and corpses! Larkin may think she's switched from detecting to directing, but there are surprises in store as she and Ed find themselves spending four hot weeks camping with the cast.

When Larkin Day gets hired as the Interim Artistic Director of the Summer Shakespeare Festival, she expects to spend her summer working with actors and designers as they put together an outdoor production of Romeo and Juliet.

She doesn't expect to spend her summer solving yet another murder—but when the actor playing Romeo is poisoned, Larkin agrees to play detective one more time.

Not because she thinks the show must go on.

Not even because she wants to save her job.

Larkin takes the case—bringing along her boyfriend Ed, her best friend Anni, and the mysterious Jay Malhotra—because she knows the poison wasn't meant for Romeo.

Somebody is out to kill Juliet—and they don't care who else gets murdered along the way.
WHAT IT IS AND WHAT TO DO NEXT: A quarterly zine about understanding reality
Shortwave | nope, only Shortwave | this is a print zine made with paper and staplers
In the first issue, Down the Rabbit-Hole, Nicole tells a story about the first book she ever read and the first man she ever loved. Then she asks a question that could change the way we understand reality.
In the second issue, Is It What It Is?, Nicole explains why she sold her investments and quit social media. She also investigates a series of literal and figurative value systems (involving both literature and figures), and introduces the reader to what-it-is-ism.
In the third issue, D4, C4, Nicole follows Alice's journey through the looking-glass — applying what she learns to chess, piano practice, and the process of becoming an adult.
In the fourth issue, None of the Monitors Are Asleep, Nicole deals with a complicated logic puzzle—and creates both a syllogism and a template for happiness.
OBSOLESCENCE: A Dark Sci-Fi, Fantasy, and Horror Anthology
OBSOLESCENCE is a collection of new short stories about horrifying or fantastical interactions with technology.
All leaps in technology are scary. Mysterious. Misunderstood. Until they slowly creep into our daily lives and become impossible to get rid of. Like an evolving parasite.
The broken cell phone that can only text with your dead husband. The backyard tire swing that becomes a portal to another world. The Radio Shack Walkie-Talkies that pick up an alien GPS…
In OBSOLESCENCE, technology gets repurposed, subverted, and redefined.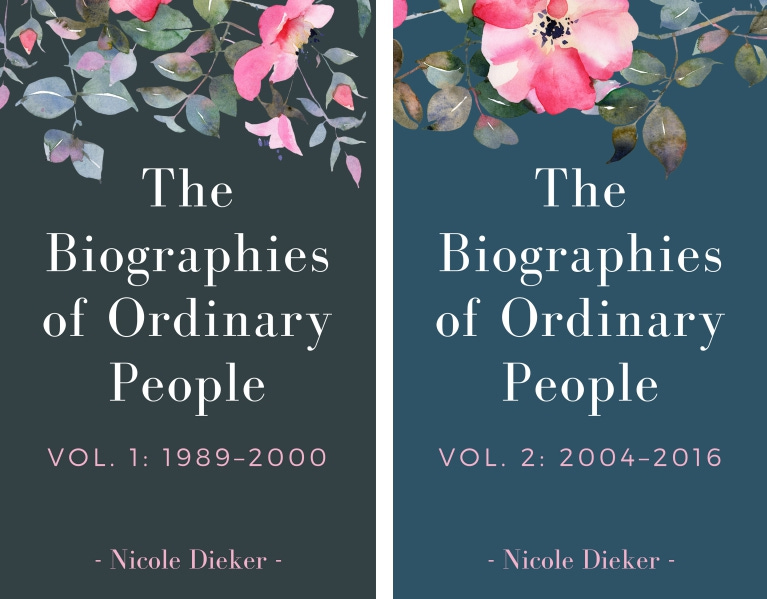 The Biographies of Ordinary People
Amazon | sorry, just Amazon | no Bookshop yet
The Biographies of Ordinary People is the story of the Gruber family: Rosemary and Jack, and their daughters Meredith, Natalie, and Jackie. The two-volume series begins in July 1989, on Rosemary's thirty-fifth birthday; it ends in November 2016, on Meredith's thirty-fifth birthday.

When the Grubers move to a small Midwestern town so Jack can teach music at a local college, each family member has an idea of who they might become. Jack wants to foster intellectual curiosity in his students. Rosemary wants to be "the most important person in her own life for the length of an afternoon." Meredith wants to model herself after the girls she's read about in books: Betsy Ray, Pauline Fossil, Jo March. Natalie wants to figure out how she's different from her sisters—and Jackie, the youngest, wants to sing.

Set against the past thirty years of social and cultural changes, this story of family, friendship, and artistic ambition takes us into intimately familiar experiences: putting on a play, falling out with a best friend, getting dial-up internet for the first time. Drinking sparkling wine out of a paper cup on December 31, 1999 and wondering what will happen next.
Library Journal Self-e Selection, with five stars from Foreword Clarion Reviews: "This first volume is deeply satisfying." Kirkus Reviews calls it "A shrewdly unique portrait of everyday America."