Radek Pazdera builds software products and writes things on the Internet. His latest project is Writing Analytics, an editor and writing tracker designed to help you write.
I woke up squinting into the harsh glow of my laptop's screen. It was 1 AM. I'd slept in my chair for about 40 minutes. My neck and back hurt. The draft on my screen ended mid-sentence with words I didn't remember writing. The word counter in the corner showed that I was about 200 words short of my daily goal.
The familiar feeling of dread settled in. There was no way I could carry on. It was the end of my writing streak.
Strictly speaking, I missed my goal for the day already as it was past midnight. It wasn't the first time, and it became one how I allowed myself to bend the rules. The words counted as long as I wrote them before going to bed. In retrospect, that was the first sign that something had to change.
I didn't write anything the next day or the day after. It felt like a failure. I'd been trying to maintain a simple writing routine for years. I could make it work for weeks, sometimes months at a time, but it always ended the same way. Maybe writing isn't for me after all?
A few months earlier, I'd transitioned from working in the office to being fully remote as England locked down to slow the spread of Covid-19. The government closed schools and shut the borders. Toilet paper sold out across the country. And I finally realized what I was doing wrong.
Your writing routine should work for you
The pandemic of 2020 was a catalyst for change. But really, things change all the time. We change jobs, move houses, have kids, start businesses. Things break down. Emergencies happen. Our lives are far from static. Why should our creative routines be?
When your writing routine stops working, is it because you failed? Or is it because it's no longer fit for purpose? I believe that more often than not, it's the latter.
Your writing routine should work for you, not the other way around. It has to adapt to whatever is going on in your life to be sustainable. I wish I'd figured this out earlier.
Write less to write more
For as long as I can remember, my goal was to write 500 words a day. It worked sometimes. But when it didn't, failing to hit the goal made me stop writing altogether. The cycle repeated over and over again, leaving me feeling miserable. 500 words aren't even that many. What's wrong?
During the summer of 2020, I replaced my daily goal with a baseline word count — a low daily minimum that I know I can write in 15 minutes or less. For me, that's between 50 and 100 words.
It's way easier to get started when you know that you can be done in 15 minutes. Often, I'll keep going and write significantly more. But when I'm not feeling it, all I have to do is to write 50 words.
My goal now is to maintain the ritual of putting words on a page. I want writing to be a part of my life. Does it even matter how many words I write in a day?
As long as I can keep going, I can always write more. Burning out is the real issue.
It's okay to be a slow writer
I admire people who can write 5,000 or even 10,000 words in a day — the writers who can finish a book in a couple of weeks. That'd be pretty cool, but it's not how I work. The most I've ever done is probably 3,000 in one day. I'm a slow writer.
On social media, it may seem that everyone is super fast, writing thousands of words every day, finishing NaNoWriMo two weeks early. Fast writers are more likely to share their word counts — it's a highlight reel. I'm certainly not posting about writing 200 words a day on Twitter, and neither are other slow writers. But we're out here, working at our own pace.
I used to think this was a limiting factor, but I'm not sure about that anymore. Writing and building an audience is such a complex process. When everything else is equal, speed is an advantage. But is everything else ever equal?
The math doesn't look too bad for slow writers either. If you're 25 and write just 100 words every day on average, you will have finished 20 novels by the age of 70. I'd be happy with that.
The best thing of all is that the reader has no idea how long it took you to write something. They only miss out when you quit.
The results
There's no perfect writing routine, only the one that works for you right now. I'm happy without a daily goal at the moment. But maybe I'll set one again in the future. Maybe I'll find the secret and start writing 10,000 words per day. Who knows?
All I know is what my writing analytics show me. Over the past year, I wrote 140,192 words and revised an additional 48,071. August was my most productive month by far with 23,631 words written and 9,340 revised. December and February turned out to be the worst with only 4,967 and 6,225 words written.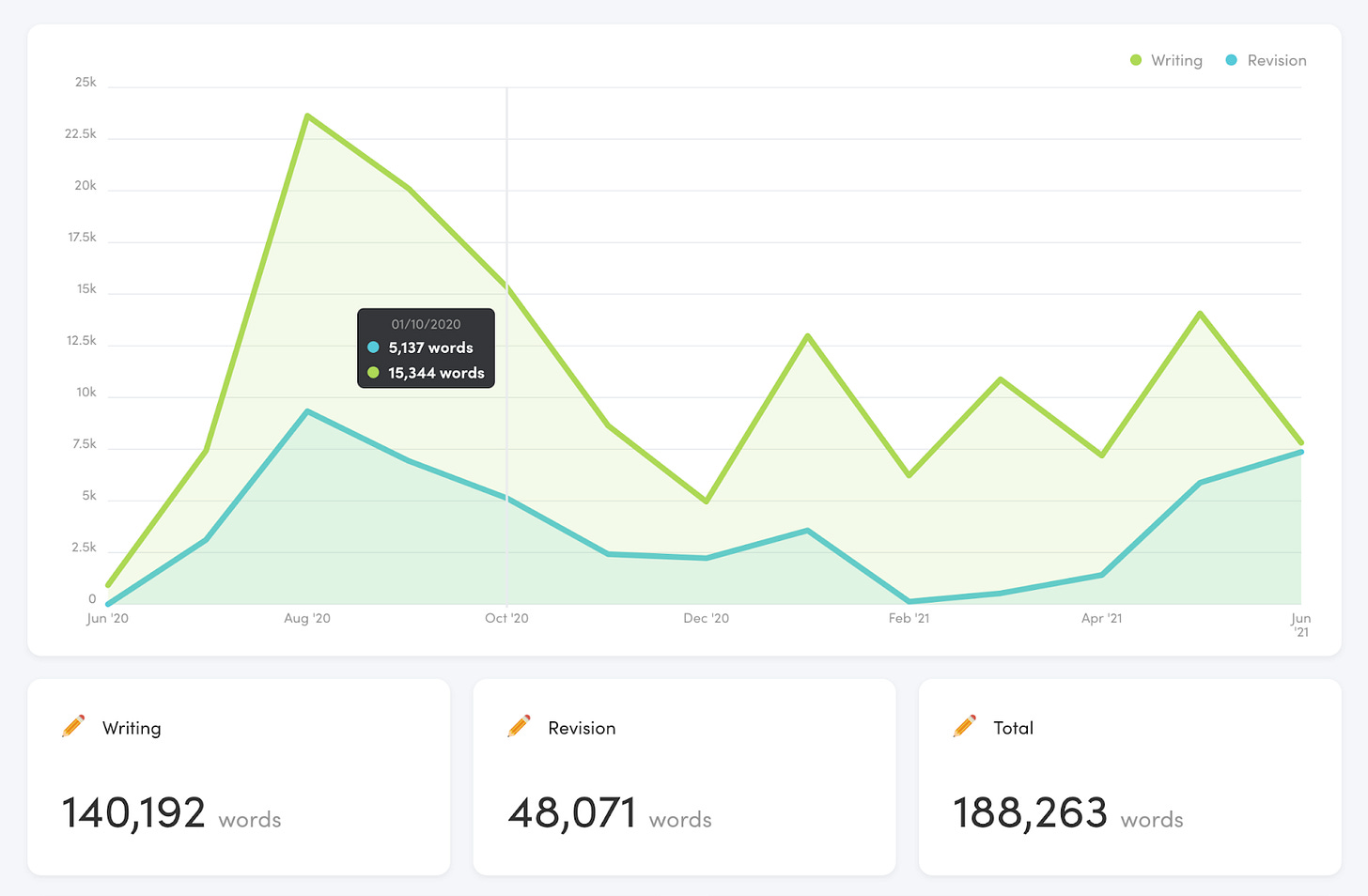 I was almost five times more productive during my best month compared to the worst. I'm wondering whether this pattern will repeat in 2021. So far, I feel like that might be the case.
It took me 238 hours to write those words (181 writing and 57 revision). The distribution of time correlates with the number of words written as shown on the chart above.
On an average day, I worked for 40 minutes, wrote 383 words and revised 131. This adds up to 514 words — almost exactly the daily goal that I dropped. Only 13 times over the past year I wrote more than 2,000 words in one day.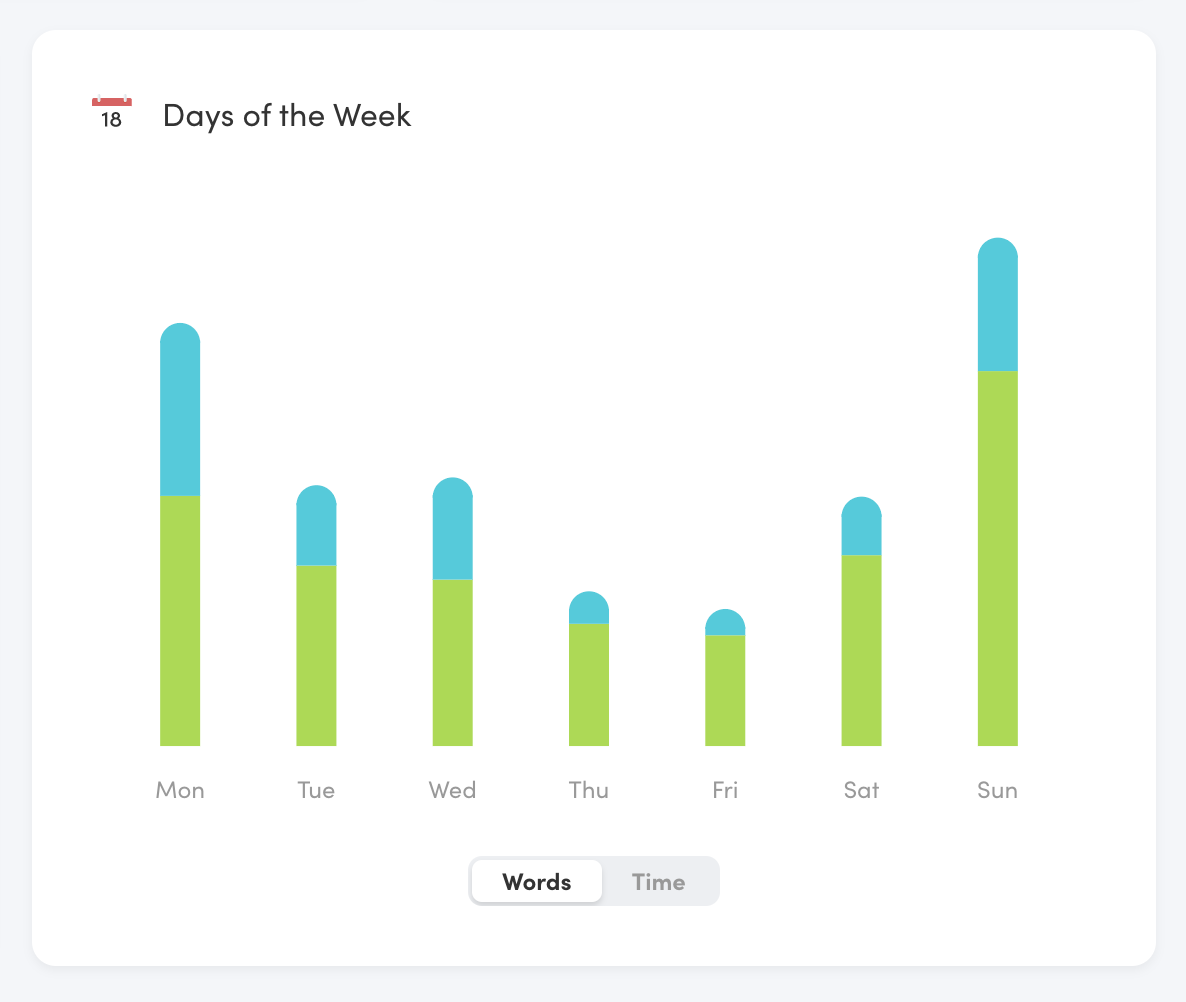 My most productive days of the week are Sunday and Monday. I'm usually exhausted on Friday, and that's also when I write the least. I'm four times as productive on Sundays as I'm on the average Friday.
Since dropping my daily goal, I wrote roughly the same number of words as I was supposed to get done with the goal in place. This wasn't my intention at all. I was looking for a way to keep writing without constantly burning out and beating myself up. Not pushing it when I struggled allowed me to write more when I had the energy to do it. I never stopped writing altogether, and that made all the difference.
I doubt that my current routine will work forever. But it doesn't have to. When it stops working, I'll change it. A writing routine should work for you, not the other way around. That's how you make it sustainable.