This Week
Books sold: 44 ebooks, 0 paperbacks Money earned: $58.92 Money spent: $0
Total
Books sold: 316 ebooks, 136 paperbacks Money earned (book sales): $1,215.76 Money earned (Patreon): $6,909 Money spent: $4,820.71
---
Today is the last day that The Biographies of Ordinary People: Volume 1: 1989–2000 will be available for $1.99. Starting tomorrow, the ebook price will go back up to $3.99 and stay that way until... probably next summer. So, if you haven't yet purchased your $1.99 ebook, now's your chance: Amazon | Barnes & Noble | Apple iBooks | Google Play | Kobo During this week's sale, I ran promos on both ReadingDeals and ManyBooks; the ReadingDeals promo ran last Friday and the ManyBooks promo ran on Sunday. In both cases, neither promo performed as well as just setting the price to $1.99. As you can see from the screenshot at the top of this post, my best sales day was Tuesday, September 19. That's the day the book was first priced at $1.99 and, assumedly, a bunch of people got notifications suggesting they go buy it. I got 43 sales that day. I got 44 sales this entire week. The ReadingDeals and ManyBooks promos cost me $53 total, so they earned back the cost of promotion, though I'm not sure how many of this week's purchases came from ReadingDeals/ManyBooks links vs. friends and readers sharing my book sale on social media. I've done four of these book promos so far—ReadingDeals, ManyBooks, and two BargainBooksy promos—and it seems like they bring in about 15–20 sales each. I still have the Fussy Librarian promo in early October, so I'll be curious to see how that one goes. I should also note that, thanks to the 43 sales on Tuesday, September 19, I hit #75 in my category. Here's the Pronoun screenshot: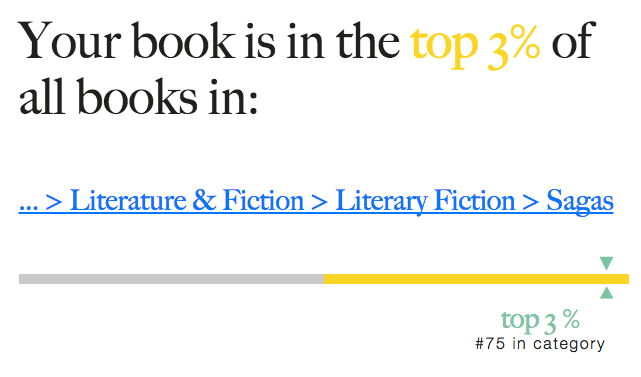 As we know from the first BargainBooksy promo, it took 19 sales for me to hit #120 in Literary Sagas; if it takes 43 sales for me to hit #75, then I could theoretically figure out just how many sales it might take to hit #1. (In Literary Sagas, not all of Amazon.) So. The distance between 19 and 43 is 24, and the distance between 120 and 75 is 45, so it took 24 sales to advance 45 ranking points, which means you move one ranking point for every 1.88 sales, except it probably doesn't really work like that, it probably takes more sales to go from 100 to 75 than it does to go from 120 to 100, so... I am not quite good enough at math to figure this out! Plus you're not only competing against your own sales, you're competing against everyone else's sales. If someone else's book takes off, everyone else's book ranking drops. Which means... yeah, there are too many variables for me to calculate this. I could roughly estimate that if I sold 226 books in one day I would be a lot closer to #1 in Literary Sagas, but that's literally saying "if I sold more books I'd be closer to #1," so... not helpful. On the subject of book sales, I recently wrote a piece for Pronoun's The Verbs about whether I can consider myself a successful self-published author:
I'm very curious about how all of you define success, because I absolutely feel like a success every time I look at anything but my sales numbers. Everything from reviews to revenue has been great for me, so far—and, if I look at the data from Goodreads and Amazon, great for my readers.

But I still haven't sold 500 books.
I used the number 500 because of that old "most self-published books don't even sell 500 copies" warning statistic, imagine a spooky ghost saying most people who dooooo this faaaaaail, except the funny thing is that, because of the $1.99 sale, I am suddenly very close to selling my first 500 copies. Which means I can say that I FOR SURE AM A SUCCESS, TAKE THAT SPOOKY GHOST! Part of me really wants to see what would happen if I priced my book at $0.99. But I know that the whole point of a sale is that you have to bring it back to the regular price after a certain period of time and keep it there. So buy Biographies Vol. 1 today, if you want that $1.99 deal. ❤️