This Week
Books sold: 50 ebooks, 1 paperback
Money earned: $79.53
Money spent: $53 (on ReadingDeals and ManyBooks promos)
Total
Books sold: 272 ebooks, 136 paperbacks
Money earned (book sales): $1,156.84
Money earned (Patreon): $6,909
Money spent: $4,820.71
---
BIG NEWS Y'ALL: The Biographies of Ordinary People: Volume 1: 1989–2000 ebook is ON SALE for $1.99.
This deal was featured on ReadingDeals this morning and will be featured on ManyBooks on Sunday. Here's the ReadingDeals promo, if you want to see how it looks: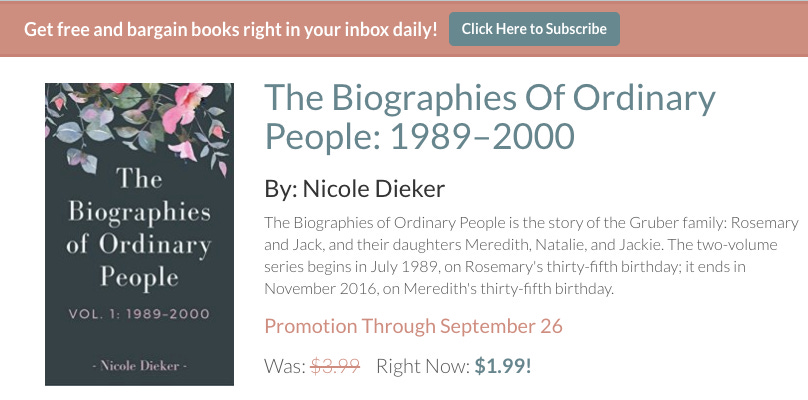 My current Amazon ranking is #37,052 in all books and #216 in Litfic Sagas. That's about where I was with my second BargainBooksy promo, and since I haven't formally announced the sale on my Twitter or my TinyLetter yet, I'm assuming this performance is due entirely to ReadingDeals.
However, I'm not sure what caused my ranking to spike at #9,489 on Tuesday. That's, like, the highest it's been ever. (I also know, because of Pronoun, that it represents 43 sales.)
Here's what I'm guessing happened:
I wanted my $1.99 sale to run from Friday, September 22 to Friday, September 29. (ReadingDeals says the promotion will end on Sept. 26, which makes me wonder if I typed the date wrong in the form. I just sent them an email to clarify.)

I emailed Pronoun about the logistics of setting up a discount. They told me that I couldn't schedule a discount to start on a specific day; once I submit a price change through Pronoun, it usually takes 1-3 days for the retailers to update their systems.

Therefore, I submitted my price change request at 10:30 p.m. Pacific Time on Monday, September 18, so it would for sure be active by Friday, September 22.

The price change was active on all retailers when I woke up on Tuesday, September 19.

Amazon must have notified readers about the $1.99 sale somehow, because 43 people bought the ebook that day.
Is it, like, if you put a book on your wishlist or something, Amazon lets you know when it's discounted? Or are people tracking Amazon prices through a third-party service? I have no idea how this happened, but it's pretty clear that pricing my book at $1.99 made a bunch of people want to buy it.
I can't attribute it to someone mentioning me on Twitter, because as far as I can tell nobody did. I can only assume that it was because of the sale that I still haven't publicly announced.
(Technically, I'm kind of announcing it now.)
This is my first sale, so I'm still learning how it all works. Advice is always appreciated, since I'm probably going to do another one of these someday.
---
In other news, the BookLife Prize announced its quarter-finalists today, and I am not on the list. I got a really lovely Critic's Report from BookLife, including a blurb which they told me I was free to slap on all my marketing materials:
Dieker writes with unrepentant honesty about the human condition, crafting the story of the Gruber family with subtle narrative tension and the central claim that every life is worthy of a biography.
(Yeah, I know some of you have seen that blurb before because I did in fact add it to all of my marketing materials. It's still great.)
The Critic's Report also gave me some indirect suggestions re: how to improve Volume 2:
Dieker's distinct voice is forthright, thoughtful, and charming. Structural flaws, including awkward shifts in perspective, are small distractions from Dieker's eloquence and humor.
I AM WORKING ON IMPROVING THE PERSPECTIVE SHIFTS FOR VOLUME 2. It is on the list of things to revise, which I will start pummeling through once again tomorrow.
Until then, if you would like to buy my book for $1.99, now's the best time to do it. ❤️