This Week
Books sold: 1 ebooks, 0 paperbacks
Money earned: $2.79
Money spent: $0
Total
Books sold: 331 ebooks, 136 paperbacks
Money earned (book sales): $1,238.35
Money earned (Patreon): $6,909
Money spent: $4,820.71
---
This week, I ran a Fussy Librarian promo (pictured above) that cost me $16 and earned... well, it's a little hard to say. Did I sell just one book?
I know I didn't sell a lot of books, thanks to Amazon's metrics: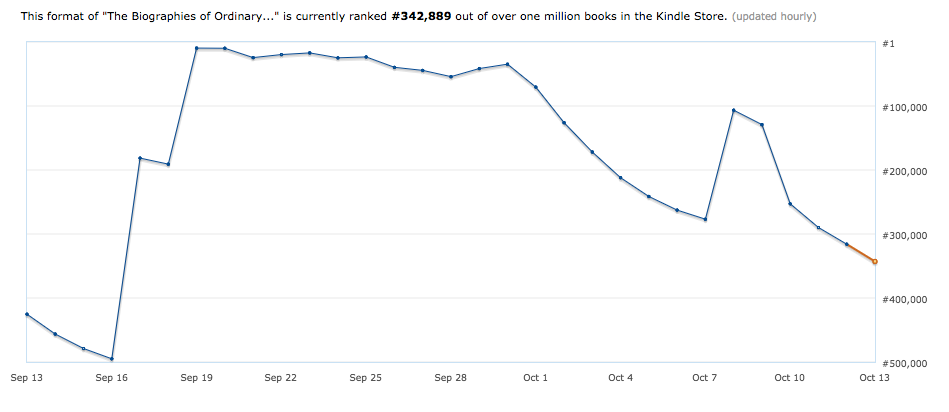 As you might remember, that spike on September 19 came when I discounted the book to $1.99, and sales stayed high for the rest of the month, during which I ran both a ReadingDeals and a ManyBooks promotion.
The smaller spike on October 8 was the day the Fussy Librarian promo ran.
Yes, you could say it was because of the news or something, but we've had bad news pretty much every day since... well, you know since how long.
So I have to conclude that the Fussy Librarian wasn't a great promo site for me.
---
I'm on target to have the revisions completed by Monday, October 23, after which I'll start doing everything else that is on my enormous Volume 2 burndown chart: writing back matter, seeking permissions, thinking about my ARC strategy, and so on.
I gave myself a huge amount of lead time to complete this project, which means that even if I fall behind schedule I'll still have time to catch up. I also gave myself a lot of lead time because I have a lot of questions to think about in terms of marketing: what am I going to do differently this time, can I afford to hire some outside help, etc. etc. etc.
I haven't yet done the serious thinking on how much this book is going to cost me; I mean, I have an idea of what it might cost, because I've been tracking Volume 1's expenses every week, but I need to sit down at some point and write out my anticipated income and expenses through... I don't know, next summer... and figure out how much I might be able to spend on publishing and promoting Volume 2.
Publishing is relatively inexpensive, even with print costs, so what I actually mean is what I can afford to spend on promotion. I feel like there are two ways Volume 2 could get traction, beyond the people who buy the book because they enjoyed Volume 1: either I pay a publicist who knows how to contact the right people in terms of interviews, ads, etc.; or Volume 1 wins at least one award and both volumes get attention that way.
I didn't do a terrible job of marketing Volume 1 on my own; I was on a handful of podcasts, I placed a bunch of articles that were about the process of writing the book, etc. (People are still reading and sharing the piece I wrote for Jane Friedman's blog.)
But I feel like Volume 2 is going to be my last chance to get people excited about this story, and I want people to read it because it's a really good story. By this time next year, both volumes will be "old releases" and we'll have moved on to something new, so I have to figure out how to optimize the time I have.
---
The other question is "what happens after Volume 2 is published?" I have some ideas. The obvious thing that needs to happen is that I start writing another book.
The smart move would be to start writing the new book while I was prepping and promoting Volume 2, and the reason I'm not doing that comes down to time management; my days are already filled with freelance work and Senior Editoring The Billfold. We have yet to see whether self-publishing will be a successful career path for me; freelance writing has been a very successful and fulfilling career so far, so it gets priority.
But it's also okay that I'm not starting a new book now because I don't really have a new book to write. I have ideas. Nothing that's gotten to the outlining stage yet. They're more like... trying to describe the dream you had last night. There's a feeling and an image and maybe one character, but you can't see their face clearly. You know there's a whole story in there, but you're going to have to make it up. ❤️