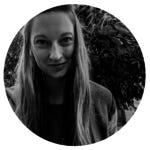 Tara K. Shepersky is a contemplative walker, writer, & photographer based in Oregon's Willamette Valley. She's also the creator of The Florilegia Project, a conversational art and poetry experiment. This is the third in an ongoing column about the creative practice. Sometimes I hear someone talking about a thing they love or watch them doing a thing that's part of their identity, and I imagine them writing a poem about it. My friend, for example, who shapes and measures and tests recipes with the kind of minute attention I give to the placement of a comma. My mom, who is some kind of sorceress of flora. (The most practical kind imaginable: magic is work, and sometimes it hurts her back and her getting-older hands.) My dad, who has a hundred aviation adventure stories that light up his voice when he tells them. My cousin, who not only sets out to read the entirety of Shakespeare's work in a year, but also writes essays about each encounter, occasionally drawing some startling connections. My husband, who listens for ways to bring friends, family, and perfect strangers joy, and crafts accordingly. (He is such a Hufflepuff.) I don't want to write a poem about these things in the voices of their particular humans. I know that's a thing poets do, especially with historical persons or our own ancestors. It's a function of poetry, maybe: lending our voices in attempts at understanding. It doesn't feel right here. For one thing, I'm talking about living people. You all have your own voices. They're beautiful. I guess I'm a little drunk on that right now. For another, this is a metaphor. The way certain folks lavish the same physical and verbal care on their enthusiasms as I do on a poem — I guess the thing my poet-brain does is immediately imagine them actually writing a poem. All of this is to say — I don't know, what am I saying right now? Your life is a poem? Some motivational-poster noise like that? (I mean, that stuff is on motivational posters for a reason, and no, that reason is not only consumer capitalism.) Maybe it's to say you should write a poem. If you want to. It's hard, sure. Sometimes. It's kinda mystical, sometimes. Equally, it's not difficult at all, and equally, it's just another way of making beauty and/or sense of the world, of telling a moment — or a relationship, or a flower, or a lifetime — as you experience it. You might be perfectly content writing poems by digging in the dirt, or carefully leveling a cup of flour, or teasing out and tying together threads from Through the Looking Glass and Henry VI. So, not writing poems. The phrase "you do you" covers a multitude of vaguenesses, but this is the kind of application where it shines. The world is slightly terrifying right now. I love watching people put beautiful, creative, utterly themselves things into it. Balancing the scales.
____________
This is one reason I write poetry, of course. It's my gift, and I'm often frightened, too. My poems are my feather on the cosmic scale. Another reason: because I have to, because to do so gives me a joy I can't live without. (I could exist without it, but that is not the same.) Writing poems cuts me open, also, quite often. This is not incompatible with joy, which gathers pain and sadness as close as it does contentment and exhilaration. But there is doing a thing because you have to, viscerally, and there is figuring out how doing that thing dovetails with your philosophy of life: what you want to give, what you want to achieve, who you want to be and why. When I started to think about it seriously, I realized I write poetry* because, on one level, figuring out life philosophy is my life philosophy. So really what I'm doing is writing my own holy text. A number of extant texts are important enough to the ongoing formation of my identity to be called, for me, holy. The Psalms. Evangelical Lutheran Worship (a hymn and liturgy book), and its predecessor, which has a name but which I mostly call The Green Book. Most of Mary Oliver's work, and Wendell Berry's Sabbath Poems. Guy Gavriel Kay's fiction, Robert Macfarlane's non-fiction. For the rest, it's inside me. Or the inside of me interacting with the outside of everything else. And as someone who doesn't garden, or cook, or story-tell, or gift, or critically assay to discover and nurture my place in the world, I do instead what my particular joy dictates: I compose. Holy texts, flawed and fragile as any other human endeavor, have bits and pieces of rubbish left in them. The Psalms, for example. Some of those singers turn pettiness and vengeance into high art, and I read those lines with distaste. And... this is also part of what I connect to in those rousing appeals for deliverance from suffering. I, too, often write poems to companion myself in difficult moments, times when I'm being tugged out by the tide. And I also hope, of course, that my own low tides will speak to a reader somewhere, some other when, and bring them comfort, or strength, or a feeling of being seen and understood. I often revise for that person. But I don't compose for them. I do that to fill my own depthless well of unknown longing. To conjure something beautiful from the nothing-times. To make an honored guest of that lonely, that particular echoing pull. Granted, I write poetry from a place of contentment, too, very often. Though even that tends to illuminate shadows at its edges. That's part of my life philosophy: in all experience, its opposite—and from this understanding I try to live toward kindness, appreciation, and generosity. I try to do this because I am not gifted at it. Poetry (among many teachers) is mentoring me toward it, showing me how I need to grow. Other people's poetry, most certainly, and also the process of writing it myself. Writing my own holy text. You are doing this too. (I guess I'm bringing us back around to those motivational posters.) Possibly you don't know it, but that's life, so often: you create the type of work you practice. So maybe that's what I'm trying to say: practice, with an intentional heart. Gift to yourself, and the rest of us, your joy. Your holy text.**
____________
*And everything else. But poetry, for me, is a distilled form of literature, the most potent. Your milage may vary. **And, you know, if you feel like it, go write a poem. Yes I know I linked that twice. Because it's great.